Third

Tuesday

Happy Hour at Social House 7
On
Tuesday, June 20
, join the PDCDC for our Third Tuesday Happy Hour at Social House 7 from
6:00 p.m. to 8:30 p.m.
Social House 7 is located at 123 7th Street and offers a social environment for you to relax and eat Japanese izakaya-style food. Izakaya is a type of Japanese restaurant that serves shareable plates as well as a variety of cocktails and Sake. Executive Chef Phillip Milton and Executive Sushi Chef Dan Forster will prepare Japanese, Korean, and Thai plates paired with sushi. Social House 7 will also offer cocktails, music, and dancing.
A cash bar and free appetizers will be available to PDCDC members, and you can sign up to be a member at the event. Some of the appetizers available will be the Jicama Spring Roll with buckwheat soba noodle, pickled carrots, pomegranate mustard, and ginger vinaigrette; Breakfast of Champions with bacon wrapped quail egg, wasabi maple glaze, diakon potato salad, and an orange slice; and Crispy Rock Shrimp with gochujang aioli and cilantro wasabi aioli.
Third
Tuesday
Night Happy Hour is a monthly PDCDC initiative where you can sample some of downtown Pittsburgh's finest restaurants. All are welcome, and you don't have to be a resident of downtown to attend.
Pittsburgh JazzLive International Festival 2017
From
June 16th to June 18th
, Pittsburghers and visitors will celebrate our great jazz legacy at the Pittsburgh JazzLive International Festival. For 3 days, jazz music and diverse crowds will fill the streets of Downtown. JazzLive sessions and beer gardens will flow from one venue to the next to ensure good vibes all weekend long.
The Pittsburgh JazzLive International Festival is happening all over Downtown including Market Square, the Cultural District and the August Wilson Center. You can view festival and event maps
here
.
Enjoy Music and Food with Rhythm & Groove
On
Friday, June 16th
, The Pittsburgh Cultural Trust invites you to indulge in a night full of Caribbean rhythms, Straight-ahead modern jazz, hot Latin Salsa Brava and classic Strayhorn swing…all in one night, under one roof, at the corner of Rhythm & Groove featuring live performances by Allan Harris, Elan Trotman & Tropicality, Noel Quintana & The Latin Crew and Sean Jones. DJ Nate da Phat Barber will be the featured DJ spinning dance music.
Rhythm & Groove is the ultimate party of the year and will occur at the August Wilson Center from
9:00 p.m. to 12:00 a.m
. VIP guests will enjoy an exclusive experience beginning at
6:00 p.m.
including a post-concert Meet 'n Greet with David Sanborn, exclusive musical entertainment by Allan Harris' Strayhorn Suite and access to the VIP lounge which features an open bar and appetizers.
This second annual music celebration kicks off the 2017 Pittsburgh JazzLive International Festival presented by Citizens Bank. Chef-inspired tastings, live music and the atmosphere of legendary night clubs will make for a night to remember. Chef-inspired tastings will include: A519 Chocolate, Blume Honey Water, Eddie Merlot, Le Lyonnais, Lidia's, Market Street Grocery, Pirata and Senti.
For the best way to experience Rhythm & Groove AND the entire Pittsburgh JazzLive International Festival presented by Citizens Bank, purchase the All-Access Pass. Other ticket options available include:
$50 General Admission,

9:00 p.m. – 12:00 a.m.
$250 VIP Experience,

6:00 p.m. – 12:00 a.m.

$500 All-Access Festival Pass The very best way to experience Rhythm & Groove and the entire JazzLive International Festival
Learning Italian Made Fun and Educational with Mondo Italiano
Highmark's Italian StrEAT Festival is sure to be an event for all ages, and Viviana Altieri is making sure that there will be ample entertainment for kids who attend the festival. Altieri is planning an Italian themed kids' tent for the festival that will have activities including crafts and a photo booth for both children and adults. While the events add to the festival to make it enjoyable for all ages, Altieri is making sure that the events will offer children and adults an authentic Italian experience.
Originally from Rome, Italy, Viviana Altieri owns and operates Instituto Mondo Italiano, which she started in 2003. Per the website, "Mondo Italiano organizes a variety of different programs such as Italian language classes, art exhibits, concerts, inter-cultural exchanges, cooking demonstrations, trips to Italy, travel presentations, as well as a library full of material in Italian."
Altieri is passionate about bringing Italian culture to Pittsburgh, and in an interview with Ciao Pittsburgh, Altieri said that the goal of Mondo Italiano was and is to build "a community that would bring students of the Italian language and anyone loving this beautiful culture together."
That community will come together for Highmark's Italian StrEAT Festival this July, and Altieri is excited to bring her events to the festival. Altieri said that Mondo Italiano is planning on having a photo booth where adults and children can put on props like authentic Venetian masks, gladiator outfits, and other Italian themed props and pose in front of different backgrounds that currently include the Colosseum and Venice, among others. Mondo Italiano will be having a contest on their Facebook page in which they plan on giving a $100 gift certificate to the people in the photo that receives the most likes. The gift certificate can be used on Mondo Italiano's Italian classes or their Dolce Vita Boutique, where they sell jewelry, handbags, and Italian houseware items.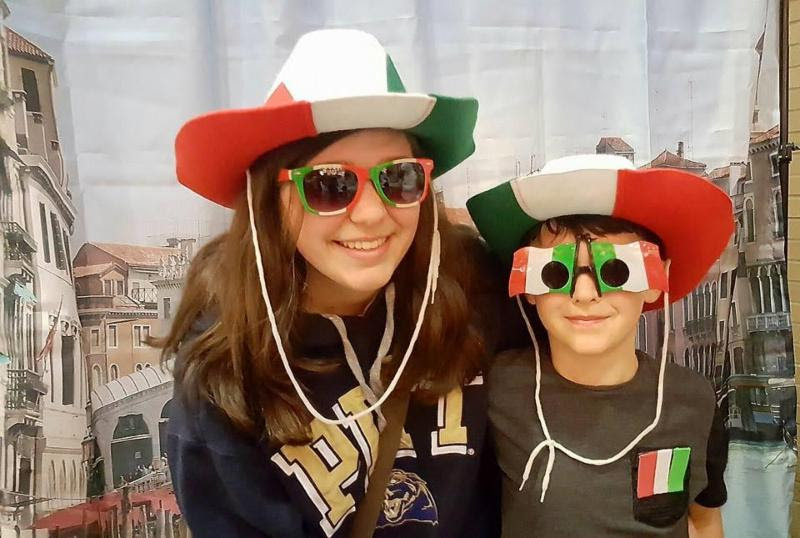 In addition to the photo booth, Altieri plans on having a range of crafts available for the kids who attend the festival. Kids will have the chance to make pasta necklaces, an Italian flag pin, a leaning Tower of Pisa, or a little gondola.
"We have chosen four symbols that anyone can relate to," Altieri said. "Pasta (after all it is a food festival, right?), the Italian flag, the Leaning Tower of Pisa, and gondolas. The aim is to create something for the kids to take home and remember this experience."
While the events Altieri has planned are sure to be fun, they are also going to be educational, which Altieri said is an added bonus. Mondo Italiano's goal is to make their events more than just a one time experience, and she hopes that they extend beyond the festival.
"Our staff is made of native Italian speakers and teachers of Italian so, while doing any activity, kids will be taught basic Italian words or songs," Altieri said. "We want to instill that appreciation for the Italian culture, and the language, right off the bat by creating positive experiences with the little ones and their parents so that coming to the StrEAT Festival will become a tradition."
Altieri is excited to bring her experience and her heritage to the festival, as her work is something she is very passionate about.
"We work with several hundreds of children every year [in] cooking classes, language classes, [and] summer camps so we just love to work with them and transmit our love for our culture, whether someone is of Italian origin or not," Altieri said.
Be sure to check out the kids' tent and all of the other events planned for Highmark's Italian StrEAT Festival, this
July 8 and 9
.
New North Shore Developments Enhance Area
The area surrounding Heinz Field and PNC Park used to be vacant, with not much more than parking lots. However, in 2003 the Stadium Authority of the City of Pittsburgh and North Shore Developers L.P. created the Option Agreement, which started commercial development of the land between the stadiums. Since then, the North Shore has undergone a transformation. The Equitable Resources Building, the Del Monte Building, Hyatt Place Hotel, Stage AE, and North Shore Place I and II, now populate the North Shore, and development of other new apartments, hotels, restaurants, and garages is still ongoing.
In March of this year, Continental Development was ready to launch their $65 million apartment complex on North Shore Drive, until it considered building hotels, offices, and restaurants instead. It's still deliberating both options.
Adding to the nightlife, Southern Tier Brewing Company just opened between the ballpark and stadium. They serve craft beer as well as six packs and hope to distribute larger amounts of beer soon.
Behind Southern Tier, a new parking garage in Lot 1 is set to open in late May or early June. It took up about 400 parking spaces but will double that number for people looking to attend sporting events or concerts.
Another spring construction project is an upscale hotel attached to the east side of the Rivers Casino. It will hold 221 rooms to accommodate those who stay late gambling or visiting on vacation. It will cost the casino $51.5 million to complete.
With new bars, restaurants, hotels, you name it, it's safe to say that riverfront property on the North Shore is becoming a lucrative commodity.
Art Institute of Pittsburgh's Annual Graduate Fashion Show
Music City Downtown Weekly Calendar
Music City Downtown Weekly Calendar
The PDCDC Music City Downtown initiative presents our weekly music calendar.
Andys Fairmont Pittsburgh
Thursday, June 15th
, Paul Consentino,
7:30 p.m – 10:30 p.m.
Friday, June 16th
, Tania Grubbs,
8:00 p.m. – 12:00 a.m.
Saturday, June 17th
, Kenia,
8:00 p.m. – 12:00 a.m.
Backstage Bar
Tuesday
, June 12th, DK Anderson in Katz Plaza,
5:00 p.m.
Barrelhouse
Free, live music every
Saturday
starting at
7:00 p.m.
at the Barrelhouse in the Northside. The Mash Bill series runs through September. A food truck will also be on-site at each Mash Bill.
Saturday, June 17
, Scott and Rosanna. Food truck feature: Food Baby
Eddie V's
Live jazz every night of the week at various times. Check out
Eddie V's website
for a full calendar.
Heinz Hall
Tuesday, June 13th, Elvis Costello & The Imposters
7:00 p.m. – 10:00 p.m.
Wednesday, June 14th
, Fuse@PSO: Mash-Up Mix-Down
Howl at the Moon
Live music on Wednesdays, Thursdays and Saturdays at
8:00 p.m.
and Fridays at
6:00 p.m.
For more information, visit Howl at the Moon's website
here
.
NOLA
Friday, June 16th
, Rachel B.
8:00 p.m.
Saturday, June 17th
, Billy the Kid & the Regulators
8:00 p.m.
Sunday, June 18th
, John Gresh
12:00 p.m. – 2:00 p.m.
Pirata
Friday, June 16th
, DJ Greg
10:00 p.m. – 1:00 a.m.
Saturday, June 17th
, Kelly Carter
10:00 p.m. – 1:00 p.m.
Revel + Roost
Friday, June 16th
– Jevon Rushton from
7:00 p.m. – 11:00 p.m.
SPACE Gallery
SPACE is hosting Get Hip Folk Series
June 16th, 7:00 – 11:00 p.m.
Learn more
here
.
Seviche
Salsa and Bachata nights
at Seviche every Tuesday from
10:00 p.m. – 1:00 a.m.
and a live DJ every
Friday
from
10:00 p.m.
– close
Downtown Events this Week:
TUESDAY, 6/13
Ella &
Louis: All That Jazz – Heinz Hall,
8:00 pm